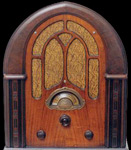 Hermits Cave
The Hermit was a depraved, cackling old geezer who seemed to delight in the gruesome, the grisly, the ghoulish, and the ghastly - it's little wonder he was forced to go off and live in a cave. There he dwelt from 1940 to 1943 or '44, inviting the unwary in to hear his tales of the dark and the macabre. The stories often ended badly for the protagonists - much to the frenetic glee of our mentally unbalanced host. The series began as a 15 minute show, later evolving into a half hour format.
These and thousands of more shows are available to our Old Time Radio Club Members
Everyone who makes a donation of $10 or more gets a lifetime club membership. Full details on our home page.



Author Of Murder 
Blackness Of Terror 
Buried Alive 
Castle By The Sea 
Fever 
Hansons Ghost 
House Of Murder 
House Of Purple Shadows 
House On Lost Lands Bluff 
House With A Past 
It Happened Sunday 
Mr Randalls Discovery 
Mystery Of Strange Thing 
Notebook On Murder 
Plantation Mystery 
Professors Elixor 
Reflected Image 
Spirit Of Vengeance 
Spirits Of Vengence  diff  
The Black Band 
The Nameless Day 
The Search For Life 
The Story Without End 
The Vampires Desire 
You Only Die Once 

If you would like to listen to these shows and thousands more, please join our Old Time Radio Club. Complete details are on our home page at www.mysteryshows.com